A Photographer's Guide To Yoho National Park
Oh, Yoho! One of my absolute favorite places to photograph. A raw and surreal landscape has inquisitive features that stir my curiosity and beg me to visit year after year. It's a hard list to come up with, but if you had one day to see as much Yoho National Park as possible, or maybe two - these would be my must-visit locations. Regardless if you're in Yoho for a day, a week or a month, these places are an absolute must! 
EMERALD LAKE 
A basecamp for adventure. So many offerings from this starting zone including waterfalls, walks, big hikes, traverses, canoe paddles, rustic-luxurious accommodations, rich history, and epic views in all directions. Worth timing a sunrise or sunset here. My personal favorite is sunrise in the fall. Watching the steam come off the pristine lake as the sun warms is stunning. There is a hiking trail along the shoreline of the lake that brings you past a notorious winter avalanche path, with no looming danger in the fall. The open slope is a perfect place to take in all of the autumn colors and get a great view of the historical lodge.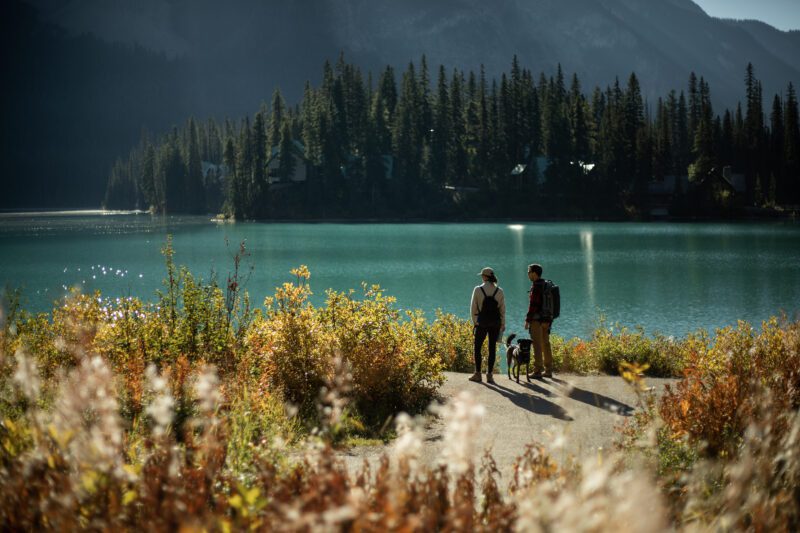 NATURAL BRIDGE
A perfect perch to see the power of the Kicking Horse River in action. Decades in the making, the Natural Bridge is an early riser photographer's dream. In the dark before sun up, the turquoise blue river makes for incredible long exposures as it twirls down, through and out the Natural Bridge rock formations. There is not a bad seat in the house to photograph or take it all in.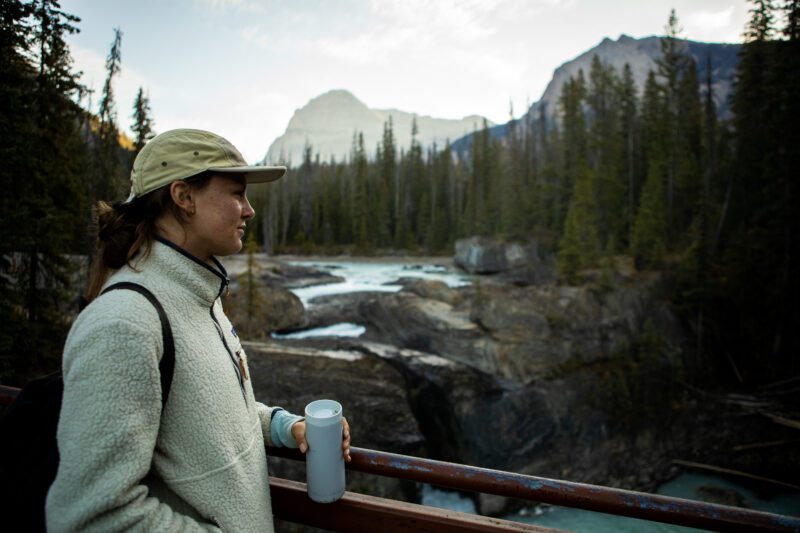 TAKAKKAW FALLS
Magnificent, is the translation from the Cree word Takakkaw and it couldn't be more accurate for the 373-meter falls. It is the second-tallest waterfall in Canada. A trail winds around with multiple viewpoints, my favorite is right in the midst - while not ideal for the lens, it's so refreshing to feel the power of this mighty marvel. It's worth noting that the falls are only in prime daylight for a few hours in the fall if you'd like to evenly expose the water, but no matter the time it's a humbling place to visit.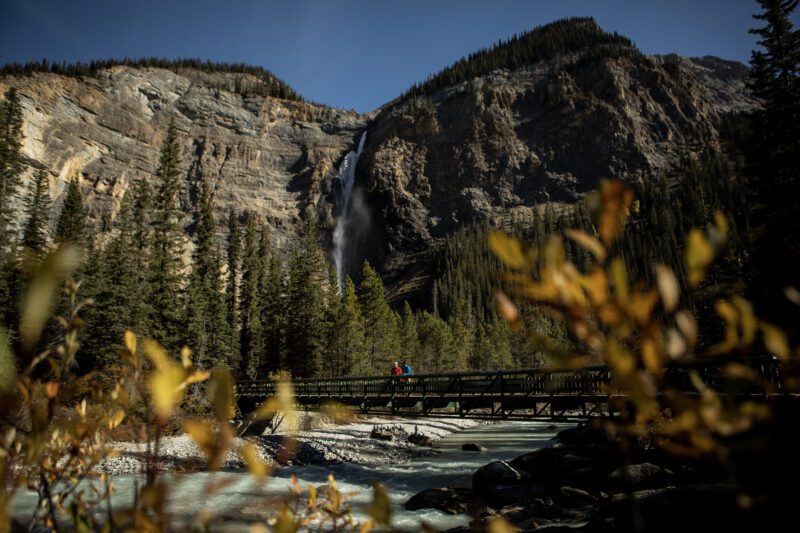 FINN CREEK
Love a good dog-friendly pit stop and Finn Creek is exactly that. The bluest of blue and relevantly calm in the fall, the water makes for a great place to picnic, read a book, relax or take the pup for a stroll or swim.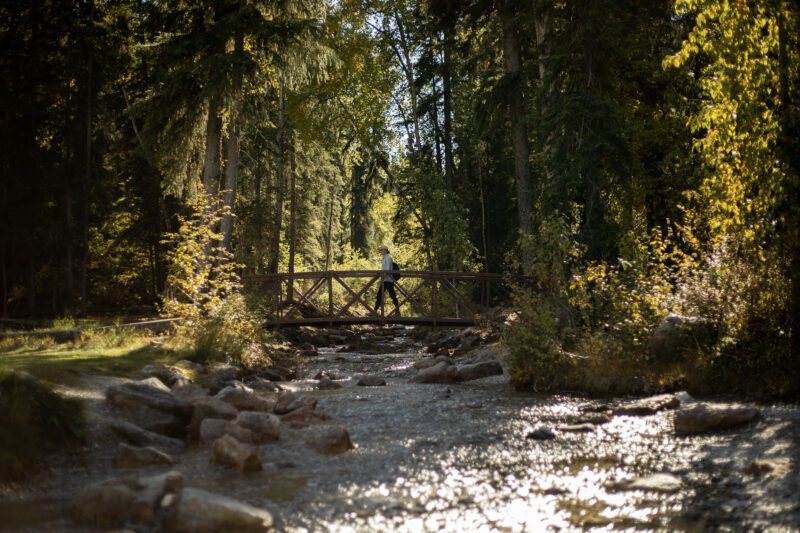 GOLDEN BC
Ah! The epicenter of it all. There's nothing more perfect than unwinding in Golden and watching the sunset from a patio downtown. No matter which direction you're facing you'll have a mountainous view. Golden has access to so many parks, and so many different ranges and offers a humble laidback vibe, it certainly has a soft spot in my heart. No visit to Golden is complete without a stroll downtown, a walk across the pedestrian bridge, and a cheers with a Whitetooth Brewing beer.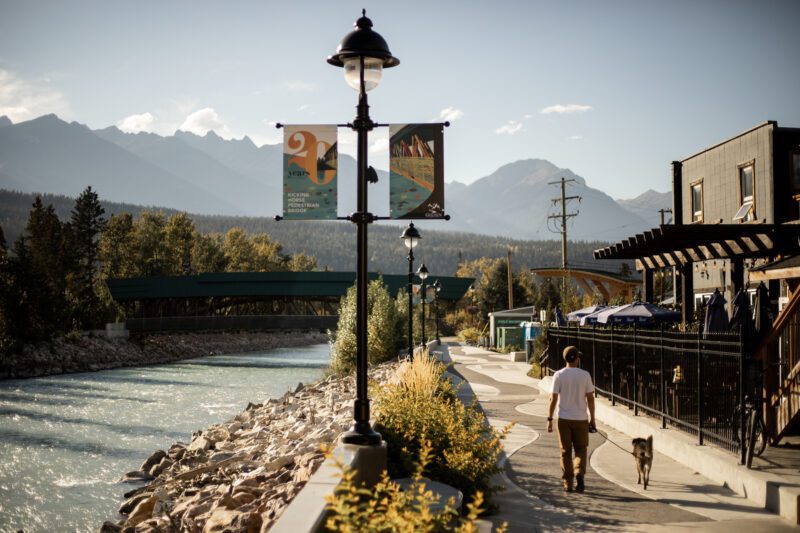 BIG ADVENTURE RECOMMENDATIONS
Known for its epic hikes and beautiful waters, Yoho National Park is connected through a series of vast trail networks. Most hikes have multiple options to make them a half-day, full-day or multi-day - well worth investigating all the options when planning in this playground. 
Emerald Triangle. 
Sherbrooke Lake.
No matter how many times you visit Yoho or Golden BC you'll leave craving for more, but no doubt about it. But you'll also leave fulfilled, accomplished, tried and mentally refreshed - no doubt about that either. 
Abby Cooper Bio
Over the last decade, Abby has crafted a career in the outdoor industry as a photographer and creative director specializing in remote backcountry locations and culture. Whether for work or pleasure Abby is always on the move, usually in the mountains, and relentlessly uniting the backcountry community. Abby is an advocate for endless education, good communication, more best days ever and fostering communities. @abbydells